Show Dates
TLA (Theater Of Living Arts)
Address: 334 South St, Philadelphia, PA 19147 Phone: (215) 922-1011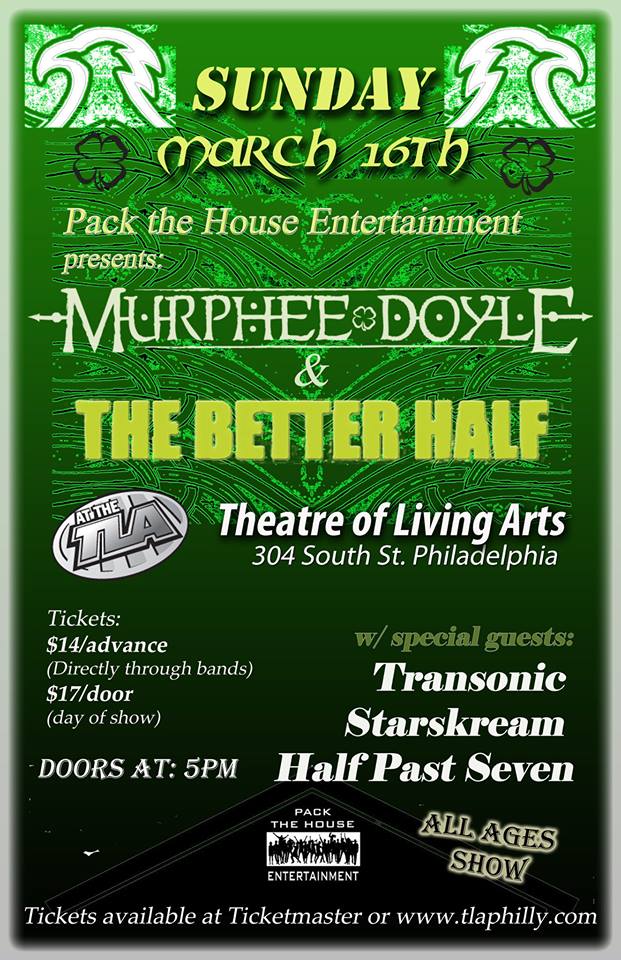 I heard an overwhelming response from our friends and fans at that packed show, "This is the best band you guys have played a show with. Do this more." Yes, multiple times, I heard that. They later asked Murphee Doyle to sign onto their show at the Queen in Wilmington for a WSTW par-tay. Easy decision. That stage is a monster and no way would I decline sharing that with my pals. Success after success together, why change things? They've recently done shows with Halestorm and Silvertide and we're damn proud they will be our main support at the TLA - We're back together for another round.

Transonic: Paul and I were in Cubane together from start to finish, 8 excellent years of ripping it up as a rhythm section. He recently joined this funk freak show as their slap bass/Seinfeld theme song extraordinaire. I have had the pleasure of seeing what they do several times. It's damn good. Like, Bruno Mars would hate to actually plug in and go head-to-head with these dudes. I have proof.

StarSkream: One of the first bands Cubane ever played with...when Dobbs was the Pontiac and upstairs. I saw full-size 'Skream posters everywhere and thought, "who the f*ck are these guys?" Then, they took the stage with a $million worth of gear and blew our heads off. We met, became friends and shared the stage dozens of times, becoming brothers in arms. We were brothers so much that they asked me to tour Tallahassee with them, as their drummer. Next, was Hollywood, where I had the best week of my life, playing the legendary strip ( it got better after the 52-hr drive on a short bus from Philly to L.A.). Afterward, I spent a few years in the band, playing all over the place with them. I can't wait to share the stage, again.

Half Past Seven: Thinking about who to book, I heard an awesome cover these guys just released of a Boston song. It's dead-on and impressive as hell. I thought back and since we co-headlined the Queen together in May of 2012, well...that was easy. These guys are well-respected as a band, for sure. I certainly enjoyed them and know the rest of you all will. We can't wait to party again, together.

So, obviously, this line-up is very personal to me. It's very much a reunion, a revolving door of good times continuing on and a serious, all-star cast of characters. Everyone here is headliner-material, so we decided to make the show from 6-10pm. This will encourage everyone to enjoy the entire night music, without a lot of downtime, or top-heavy performances. I purposely pick great bands, because it is important that people who are spending their hard-earned money get to enjoy EVERYTHING they hear and see.

That's what I love about the music business - I get to meet all kinds of great people and put on great shows, like this one. Not only has my dream come true of finally getting to play the TLA and have the Murphee Doyle name in lights over South Street, but I get to share this whole thing with great friends - on the stage and off. That is what really makes it all special. See ya'll on South St.